Final Show Of Our 2018/2019 Season
Elvis Has Left The Building a Comedy By
V.Cate And Duke Ernsberger
Directed By Missy Mullens
Saturday February 23, 5:30 p.m.- 7:30 p.m.
In The AC Hall and
Monday February 25th 7:00 p.m.- 9:00 p.m.
In The AC Hall

Show Dates Are
April 26,27,28 May,3,4,5,10,11,12 Friday and Saturday At 7:30 p.m. Sundays 2:00 p.m.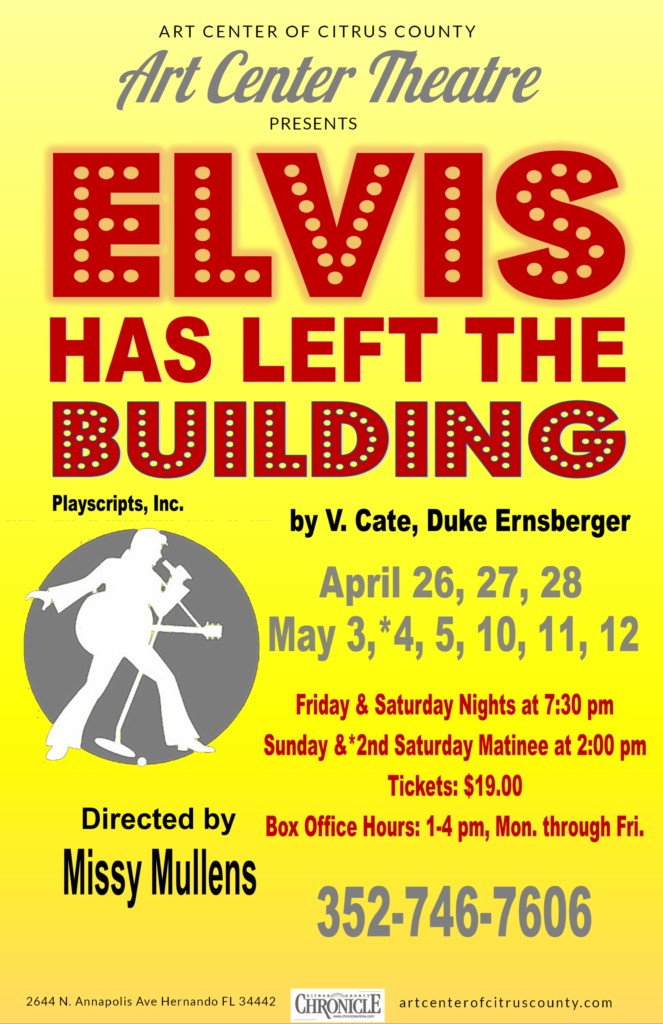 All Actors Should Be Prepared To Read From The Script And Come Dressed To Move. It Is Not Required But Anyone Wishing To Perform A 1-3 min. Contemporary Comedic Monologue Are Encouraged To Do So.
Play Synopsis
It's December 20th, 1970, and Elvis Presley has disappeared. No one, not even his wily manager, "The Colonel", knows of his whereabouts. But the Colonel is all shook up because he has racked up a secret debt — and with the King himself missing, the only way to pay it off is to find an Elvis impersonator within 24 hours. Hijinks ensue as the Colonel takes desperate measures to replace a man who is irreplaceable, all while keeping the prying eyes of a nosy reporter at bay and figuring out what happened to the real Elvis.
The Characters
The Colonel
Elvis' Manager He Was An Outsized Mystery Man Who Went By The Name Of Thomas A. Parker And Insisted Upon Being Called "The Colonel." Always Playing The Part Of The Southern Gentleman, He Was A Shrewd, Showman-Like Figure Who Learned How To Sell An Act By Working For Carnivals; Age 60-70 But Actor Can Be Aged With Make-Up. This Role Has A Heavy Line Load The Colonel is on Stage For The Entirety Of The Show.
Trudy
The Colonels Capable German Secretary Age 30+
Jill Tanner
An Ace Newspaper Reporter Age 20's – 30
Roscoe
A Nerdish Office Worker Age 18-35
Candy
A Former Juvenile Delinquent Turned Colonel's Protege Age 18-35
Roscoe And Candy Do Not Need To Look Like Elvis Or Be Able To Sing The Less They Look And Sound Like Him The Funnier The Show Will Be
Elvis Look Alike Or Impersonator
Who can Pass As The King In His 30's
For a Brief Appearance Prior To Shows And
Promotional Photos and Video.
If You Have Any Questions Or Would Like A PDF Of The Audition Sides Please Contact Missy Mullens @ (352)270-2749 Or By Email: missymullens@yahoo.com