"The Amorous Ambassador"
An American Farce by Michael Parker
Directed by Pam Schreck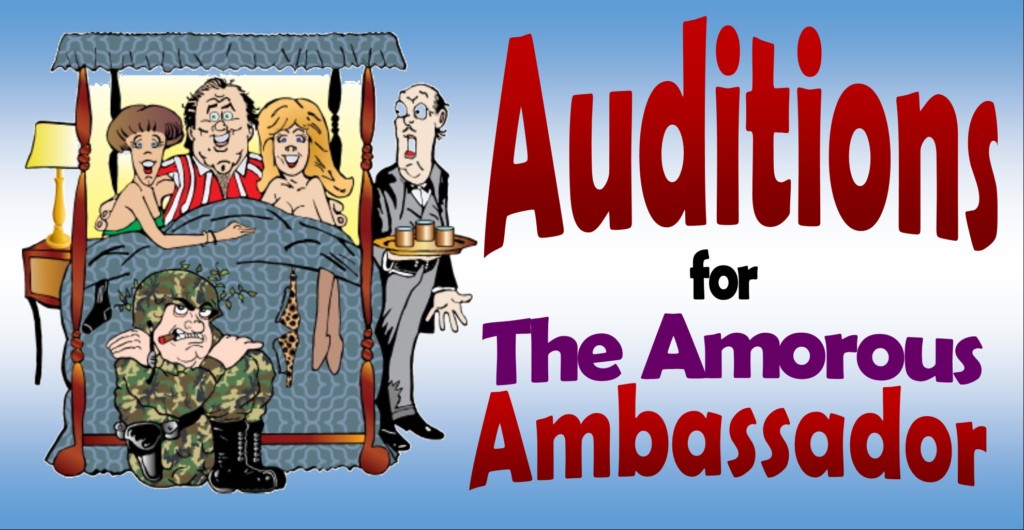 AUDITIONS:Sunday, Feb 11 @ 5:30 pm Monday, Feb 12 @ 6:00 pm at The Art Center
Production dates: April 20, 21, 22, 27, *28, 28, 29, May 4, 5, 6, 2018
*Matinee
"Hormone" Harry is Back in Town!!!
"Hormone" Harry Douglas (From THE SENSUOUS SENATOR) is back to his old shenanigans again, but this time as the American Ambassador to Great Britain. He tells his wife Lois, that he has arranged a golf outing in Scotland for the weekend. Lois, in turn, tells Harry that she too will be gone for the weekend at a spa and that their daughter Debbie will be gone visiting a girlfriend. Each then tells Perkins, their newly hired butler in their country home, of their plans. He stoically watches as each of them leaves for the weekend. Does the imperturbable Perkins find romance? Does Lois return for a weekend tryst of her own?
Note: The parts of Harry Douglas and Lois Douglas will be played by Doc Weingarten and Chris Venable, who originally played the characters in THE SENSUOUS SENATOR produced at The Art Center Theatre in September 2016.
HARRY DOUGLAS:  A former U.S. Senator, now the U.S. Ambassador to Britain. A philanderer and woman chaser, he usually manages to smooth-talk his way out of compromising situations.
LOIS DOUGLAS: Harry's long-suffering wife who manages to turn the tables on him in the final unexpected denouement.
PERKINS: (Age 50+) The quintessential butler. A pivotal character around whom most of the circumstantial humor seems to occur. He remains oh so British an never cracks a smile and always seems to be in control. (Controlled, competent, dry wit)
JOE: (Age 20-30) Joe's great misfortune in life is that his girlfriend (Debbie) is the Ambassador's daughter. He is caught up in a whirlwind of events and never seems to understand how he has got into such a mess. He spends a good portion of the play in a dress and wig, pretending to be Debbie's girlfriend, Josephine, or fighting off the advances of "The Amorous Ambassador". (Naive, likable)
CAPTAIN SOUTH: (Age 25-45) The Marine Corps officer in charge of embassy security. He is a total incompetent, who spends his time searching for a non-existent; mad bomber, when he is not being knocked out, hit by doors, etc. (Incompetent, serious, athletic)
DEBBIE: (Age 20-25) The Ambassador's daughter, always quick thinking and keeping one step ahead of her father. She manipulates all those around her. (Bright, attractive, manipulative)
MARIAN: (Age 25-40) The Ambassador's girl-friend from next door, willing to help the Ambassador act out his fantasies with costumes that range from a cocktail dress to a French maid's outfit. (Glamorous, sexy)
FAYE: (AGE 25-40) The Ambassador's secretary, is not too bright; in fact, Harry suggests she hold a seance to see if she can make contact with her brain, it's probably a good idea. She breaks things, drops things and never leaves home without her own tube of super glue. (Sweet, klutzy, academically challenged)
NOTE: The role of SOUTH requires physical challenges i.e. falling to the floor when being knocked unconscious; Costumes: JOE: Wig, woman's dress, FAYE – a black lace slip and MARIAN – 2 piece lingerie