Art Center Theatre 2016/17 Season Play Schedule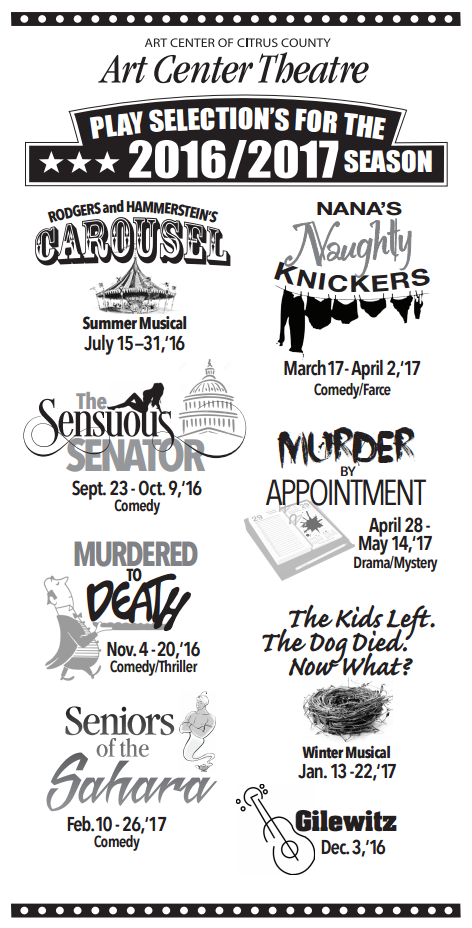 1.The Sensuous Senator (Comedy/farce)
Sept 23, 24, 25, 30, Oct 1, 1, 2, 7, 8, 9.
A Samuel French Production
by: Michael Parker
Senator Douglas is running for President on a "morality" platform, but when his wife Lois leaves to attend a conference in Chicago he does not hesitate to invite Veronica, his secretary and lover, over. Finding her unavailable, he has an escort agency send voluptuous Fiona. All seems well until his
elderly Congressional colleague and neighbor locks himself out and asks to spend the night.
2. Murdered to Death – (Comedy/thriller)
Nov 4, 5, 6, 11, 12, 12, 13, 18, 19, 20.
A Dramatist Production
By: Peter Gordon
A spoof of the best Agatha Christie traditions, with an assembled cast of characters straight out of typical mystery plays: Bunting the butler, an English Colonel with the prerequisite stiff upper lip, a shady French art dealer and his moll, bumbling local inspectors and a well meaning local sleuth who seems to attract murder – they're all here, and all caught up in the antics which follow the mysterious death of the owner of a country manor house.
3. Seniors of the Sahara (Comedy)
Feb 10, 11, 12, 17, 18, 18, 19, 24, 25, 26.
A Samuel French Production
By: Barbara Pease Weber
Sylvia Goldberg, a respectable retired New Jersey school teacher, brings home more than just souvenirs upon returning from her grandson's wedding in Israel. Sylvie's troubles begin when she realizes that the old teapot she purchased at an outdoor market is actually a priceless relic containing a geriatric genie "Eugene" with a bad back and a penchant for vodka and V8.
4. Nana's Naughty Knickers (Comedy/farce)
March 17, 18, 19, 24, 25, 25, 26, 31, April 1, 2.
A Samuel French Production
By: Katherine DiSavino
Bridget and her Grandmother are about to become roommates. However, what Bridget saw as a unique opportunity to stay with her favorite Nana in New York for the summer quickly turns into an experience she'll never forget. It seems her sweet Grandma is running an illegal boutique from her apartment, selling hand-made naughty knickers to every senior citizen in the five borough area!
5. Murder by Appointment (Drama/mystery)
April 28, 29, 30, May 5, 6, 6, 7, 12, 13, 14.
A Samuel French Production
By: Frank Williams
David Langton, a young man in his mid-twenties returns home, clearly in a state of great agitation. Then his eighteen year old brother, Charles, arrives with the news that there has been a murder on the cliff top. David's father, Richard, the editor of the local paper goes out to the scene of the crime with his younger son, to get the story. Things come to light about David's past which suggest that there might be reasons why he could be interested in this particular type of murder.
Additional Productions
Summer musical R&H, Carousel – July 15-31
Gilewitz Concert – Dec 3,2016
Halavan Youth Theatre – Dec 9-11, 2016
Winter Musical
The Kids Left. The Dog Died. Now What? – Jan 13-22
Youth Theatre – April 14, 15, 16