Category Archives:
Workshops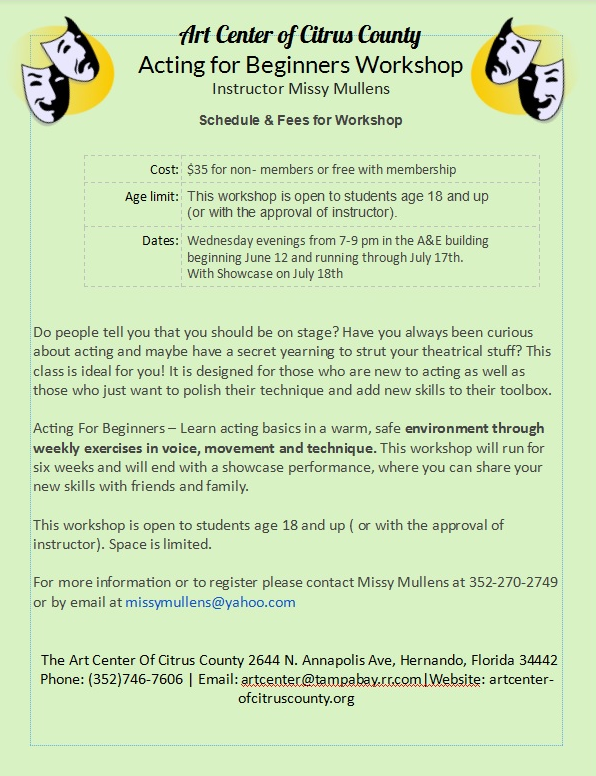 Louanne Headrick will be the presenter for "Make & Take Project"
Tuesday March 12 • 1-3:00 pm Refreshments & Presentation
A retired Hospice R.N. and a self-taught artist in oil watercolor, pastel, acrylic and mixed media, Louanne has taught beginning, intermediate and advanced watercolor classes at the Bonita Springs Art League in south Florida and the Naples Art Association. A Signature Membership in the Florida Watercolor Society and a holistic spiritual writer, she likes working with art and artists sharing what she knows and hearing what other artists know to be their truth about themselves and their works of art. Louanne will be sharing her knowledge and information on resources during this fun event.
Attendees will be provided all materials for this fun project using china markers, pen, conte crayons, and watercolor pencils
Suggested $5 donation for supplies, $7 for non-members

The Art Center Of Citrus County Will Be Offering The Following Workshop, Acting For Beginners
Instructor Missy Mullens
Classes will be Sunday Evenings from 6-8 pm in the               
A&E building beginning March 11 and running through April 22nd   
With  Showcase on April 29. No class Easter Sunday.    
Cost is $35 for non- members or free with membership.
Do people tell you that you should be on stage? Have you always been curious about acting and maybe have a secret yearning to strut your theatrical stuff? This class is ideal for you! It is designed for those who are new to acting as well as those who just want to polish their technique and add new skills to their toolbox.
Acting For Beginners – Meisner Technique is an introduction to Sanford Meisner's approach to developing a foundational acting technique. This acting class is a step-by-step progression of acting exercises that develop the actor's ability to work organically, creating truthful, expressive behavior in acting. This acting class covers the beginning Meisner techniques from word repetition through their first application to a scene and monologue. In a fun safe environment. This workshop will run for six weeks and will end with a showcase performance, where you can share your new skills with friends and family.
This workshop is open to students age 14 and up ( or with the approval of instructor). Space is limited. For more information or to register please contact Missy Mullens at 352-270-2749 or by email at missymullens@yahoo.com