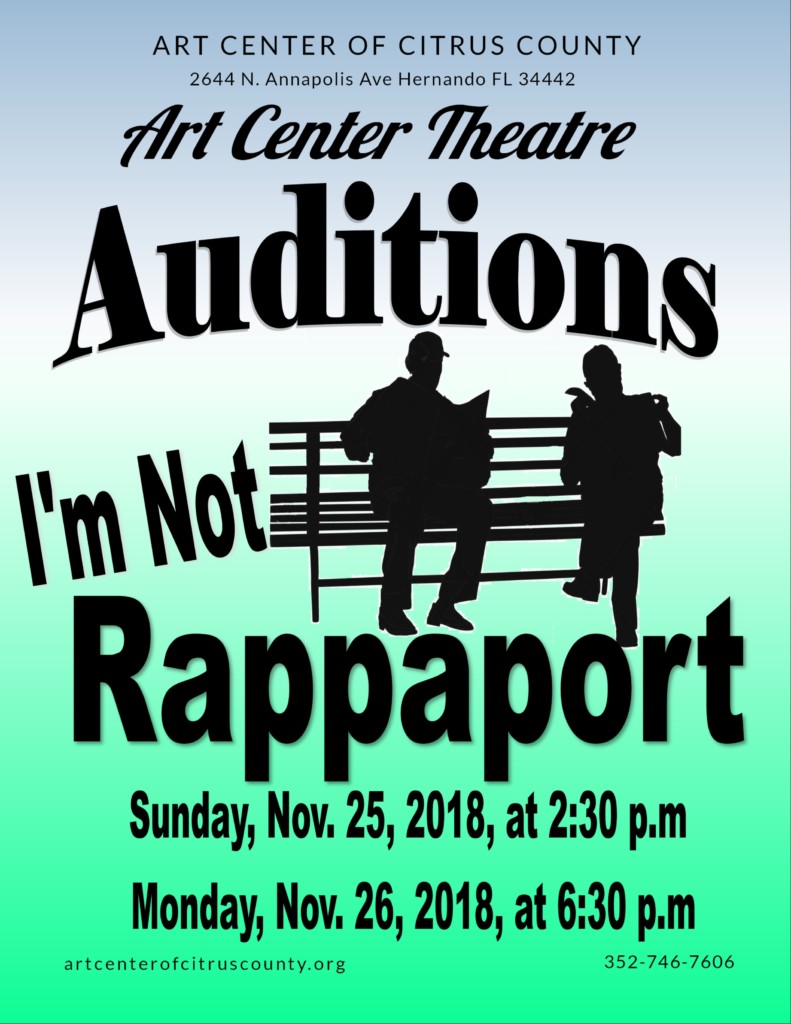 AUDITIONS FOR "I'M NOT RAPPAPORT":
The play is built around two octogenarians-Nat, who is white and Midge, who is black. They spend time together sharing a park bench near the lake in New York's Central Park. Both men have senior issues. Nat, who likes to tell tall tales, has an adult daughter who would like to place him in an "Old Folks Home." While Midge is no longer able to do his job as superintendent of the apartment building where he also lives and tries to cover it up. (Actors don't have to be in their 80's. We have makeup.)
Other characters appearing in the play are as follows:
Danforth – (30's to 40's, in good shape. Jogs in the park). Head of the tenants' committee for the building Midge lives and works in. He has been looking for Midge to talk to him about his future.
Laurie – (About 25 or can look it). A delicate, pretty girl who comes to the park with a sketchbook – and a secret.
Gilley – (Teens to 20's or can pass for). A tough kid who bullies the elderly and extorts money from them.
Clara – (40's-50's or can look it). Nat's adult daughter who would like to get him off the streets. She worries about her dad.
The Cowboy- (30's-40's or can look it), complete with Stetson and Buckskin. He looks like a tourist but is a drug dealer who sells in the park.
We will rehearse Tuesdays, Wednesdays, and Thursdays with time off for the holidays.
Audition dates: Sunday, Nov. 25, 2018, at 2:30 p.m. and Monday, Nov. 26, 2018, at 6:30 p.m. in the A & E building.
Performance dates: February 8, 9, 10, 15, 16 (2x), 17, 22, 23, 24.
Further info? Call Director Peter Abrams (352) 746-0915. Leave a message with your phone number.
Thanks.