The Art Center of Citrus County
Announces Nature Coast Exhibit No. 3 Jurist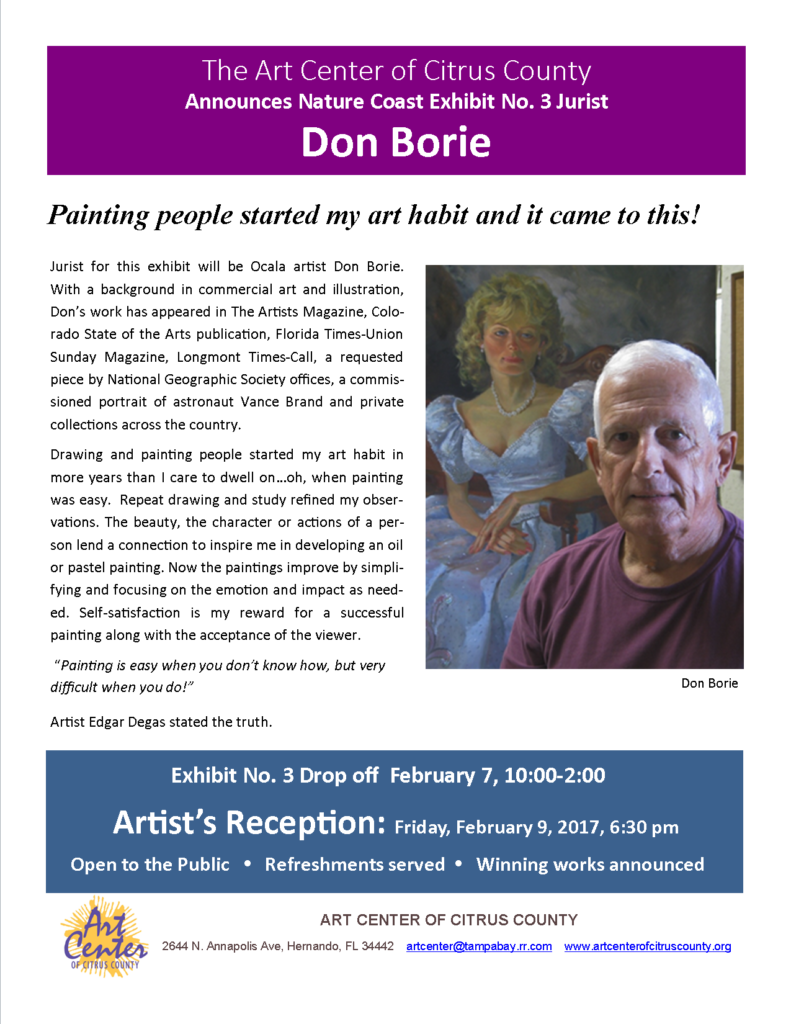 Don Borie
Painting people started my art habit and it came to this!
Jurist for this exhibit will be Ocala artist Don Borie. With a background in commercial art and
illustration, Don's work has appeared in The Artists Magazine, Colorado State of the Arts
publication, Florida Times-Union Sunday Magazine, Longmont Times-Call, a requested piece by
National Geographic Society offices, a commissioned portrait of astronaut Vance Brand and
private collections across the country.
Drawing and painting people started my art habit in more years than I care to dwell on…oh,
when painting was easy. Repeat drawing and study refined my observations. The beauty, the
character or actions of a person lend a connection to inspire me in developing oil or pastel
painting. Now the paintings improve by simplifying and focusing on the emotion and impact as
needed. Self-satisfaction is my reward for a successful painting along with the acceptance of the
viewer.
"Painting is easy when you don't know how, but very difficult when you do!"
Artist Edgar Degas stated the truth.
Exhibit No. 3 Drop off February 7, 10:00-2:00
Artist's Reception: Friday, February 9, 2017, 6:30 pm
Open to the Public • Refreshments served • Winning works announced