Once Upon A Mattress, July Musical Comedy, Published by Concord Theatricals Music by Mary Rodgers |Book by Jay Thompson, Dean Fuller, and Marshall Barer Lyrics by Marshall Barer
July 15, 16,17,22, 23, 24, 29, 30, 31
4 females, 7males, & ensemble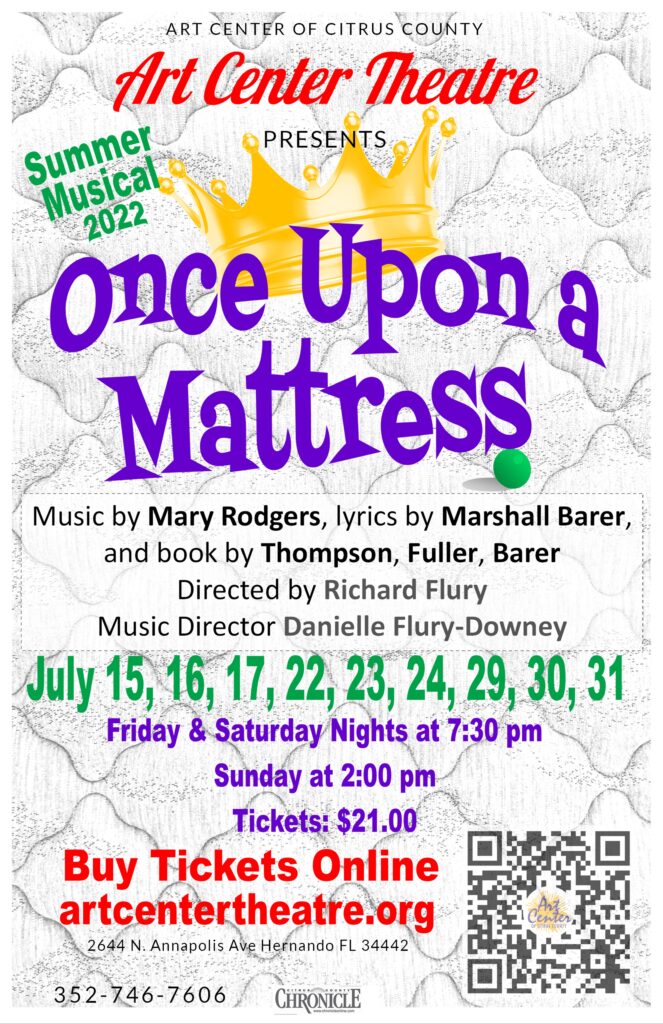 Many moons ago in a far-off place, Queen Aggravain decreed no couples could marry until her son, Prince Dauntless, found a bride. Princesses came from far and wide to win the hand of the prince, but none could pass the impossible tests given to them by the Queen. That is, until the "shy" swamp princess, Winnifred the Woebegone, showed up. Would she be able to pass the Sensitivity Test, marry her prince and help Lady Larkin and Sir Harry to the altar? Carried on a wave of wonderful songs, by turns hilarious and raucous, romantic and melodic, this rollicking spin on the classic tale The Princess and the Pea provides some side-splitting shenanigans. For, after all, a princess is a delicate thing.
The Outsider, Comedy by Paul Slade Smith, Published by Playscripts
Sept 16, 17, 18, 23, 24, 25, 30, Oct 1, 2
3 females, 4 males, full-length, 110-120 minutes
Ned Newley doesn't even want to be governor. He's terrified of public speaking; his poll numbers are impressively bad. To his ever-supportive Chief of Staff, Ned seems destined to fail. But political consultant Arthur Vance sees things differently: Ned might be the worst candidate to ever run for office. Unless the public is looking for… the worst candidate to ever run for office. A timely and hilarious comedy that skewers politics and celebrates democracy.
Let's Murder Marsha, Comedy by Monk Ferris, Published by Concord Theatricals
Nov 4, 5, 6, 11, 12, 13, 18, 19, 20
4 females, 3 males
A happy housewife named Marsha, hopelessly addicted to reading murder mysteries, overhears her loving husband discussing her upcoming birthday surprise with an interior decorator. To her ears, though, it sounds like they are planning to murder her! With the assistance of her next-door neighbor, she tries to turn the tables on them with a poisoned potion. When her own mother shows up for her birthday a day early, Marsha thinks she is in on the diabolical scheme. When her maid's date, a policeman, shows up to take the maid out, Marsha think he is on to her poisoning attempt. Well, finally, just when you would think all this would be cleared up, Marsha's intended victims discover what she has supposed, and decide to teach her a lesson by actually pretending to be murderers. This is a terrific show for family audiences who like their comedy broad, fast, and nonstop.
Youth Theatre – Dec 9, 10, 11, 2022
The Robin Hood Caper, Comedy by Fred Carmichael, Published by Concord Theatricals
Feb 24, 25, 26, Mar 3, 4, 5, 10, 11, 12
4 females, 6 males, full-length, 110-120 minutes
Carmichael has again proved himself an inventive and amusing playwright. He has taken an old plot rob from the rich and give to the poor but not even Robin Hood would recognize the hilarious modern slant given to it. Four old people meet to report on their good works in the "Charities Anonymous Club" at the home of Flora Langley's nephew, a small town journalist in danger of losing his newspaper to the grafting Mayor. Flora and her three old friends are actually retired crooks who use their old modus operandi for charitable purposes. Through the plot there is woven an unusual love story, moments of satire, and show stopping situations of hilarity.
I Love a Piano, January Musical – Music and Lyrics by Irving Berlin, Conceived by Ray Roderick and Michael Berkeley, Musical Arrangements by Michael Berkeley
Jan 13, 14, 15, 20, 21, 22 – Contemporary, Present Day, New Millennium/21st Century, 1930s, 1920s, 1910s / WWI, 1900-1910, 1990s, 1980s, 1970s, 1960s, 1950s, 1940s / WWII
3 females, 3 males, Duration 120 minutes (2 hours)
I Love a Piano is the celebration of the music and lyrics of Irving Berlin. It follows the journey of a piano as it moves in and out of American lives from the turn of the century to the present. Along the way, the story comes to vibrant life with over sixty of Irving Berlin's most beloved songs, including classics such as 'Blue Skies,' 'There's No Business Like Show Business,' 'Puttin' on the Ritz,' 'Cheek to Cheek,' 'Always,' 'How Deep is the Ocean,' 'Anything You Can Do,' 'God Bless America,' and, of course, 'I Love a Piano.' Alternately heartbreaking and hilarious, rousing and reflective, I Love a Piano is a fitting tribute to the man Jerome Kern famously said had 'no place in American music – he is American music.'
Don't Mention My Name, Comedy by Fred Carmichael, Published by Concord Theatricals
Apr 14, 15, 16, 21, 22, 23, 28, 29, 30
5 females, 3 males
An award-winning playwright asks what you would do if you suffered temporary amnesia and stumbled into a bed and breakfast off-season only to find you were expected for the weekend. That is what happens to the leading man in this delightful comedy. The attractive real estate lady calls him by one name and the housekeeper by another. A business executive and his secretary appear with a confirmed reservation and call him by another name. The executive's wife surprises them all and calls the hero by a different name, and a nightclub singer enters with her hearty boyfriend and recognizes him by yet another name. As the amnesiac and the real estate lady band together to solve the mystery, it develops that people are not who they seem and even though each works for a different government agency, they all have the identical purpose. The plot becomes more and more hilarious until all questions are answered, including who the hero is and what the crime is with a surprising twist ending. This combination of intriguing laughter, romance, and mystery provides a delightful evening.