The Art Gallery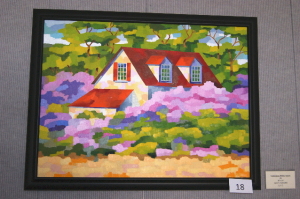 The main Art Center Gallery is located at the South door of the A & E building. The Gallery is one of the finest in the area and has taken honors as "The Best of the Best" in Citrus County many times over.
CLICK HERE FOR LATEST GALLERIES
Visitors will always find an interesting and professional level exhibit hanging in the Gallery. Exhibits are judged and both prize money and ribbons awards. Artists award and reception evenings are held for each new exhibit and the public is invited to attended. Usually the gallery receptions coincide with opening night of theatre productions so it's a perfect opportunity to not only visit the gallery but to see our outstanding community theater plays. Generally, art work is for sale by contacting the artist. Artist business cards are available in the Gallery. Just check the Art Center calendar for all the event dates and times.
Any artist or photographer is invited to enter our judged exhibits by bringing work to the Art Center on receiving days. Art Center membership is not required to enter most of our exhibits. Local artists may bring their work in on selected dates to enter for jury on specific dates listed on the Art Center web calendar. Information about how to enter is on the Visual Arts Exhibits tab of this website. A Prospectus with entry rules is available to print for each exhibit and entry fees may be paid on-line through Pay Pal or in person by cash, check or credit card.
Art Gallery West Wall
The Visual Arts division of the Art Center of Citrus County has a large variety of activities and special interest groups for those interested in continuing or expanding their participation and education in the arts. Most of the visual arts functions take place in the newly expanded and renovated Arts & Education building on the Art Center campus.
The A & E building contains the Art Gallery, Theater Box Office, Library, Kitchen, Conference Room, Rehearsal Hall, a large Multi-Purpose Room, restrooms and storage, and the Art Center Office. The A & E Building is fully handicap accessible at every entry and includes handicap facilities.
The building is open daily from 1 p.m. to 4 p.m. for visitors to view the Art Gallery, ask questions, buy theater tickets or gather information about activities. There are large parking lots on the west and north sides of the building.